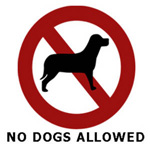 (Inside building. OK for service animals).
Dear Visitor to GSMRM:
You may not know that our Museum building is leased from
the East Bay Regional Parks District (EBRP). Regretfully,
due to some recent minor but unfortunate incidents, EBRP
has instructed us to enforce this restriction, according
to Ordinance 38 in their General Regulations.
Animals are allowed within the grounds/parking lot area so
long as they are leashed, attended and well-behaved. Please
take care to cleanup any of your animal's "business" !
Your cooperation on this sensitive issue will be appreciated.
Enjoy your Visit !